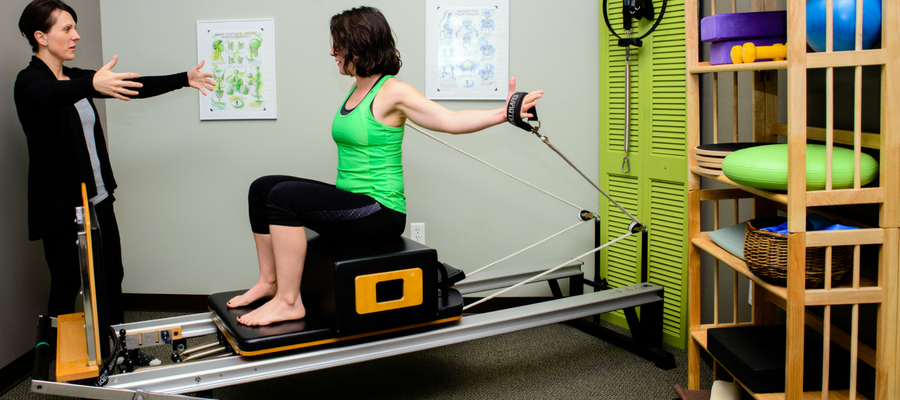 Private and Semi-Private Stott Pilates
Stott Pilates is a system of therapeutic exercises focused on movement that tones and balances muscles down to the joint. Devotees to this exercise enjoy improvements in their core, strength, flexibility, posture, circulation and range of motion.
Developing core strength is one of the central benefits of therapeutic Pilates. "Centering" is a main principle -feeling the "core' of your own body creates awareness of how the core supports the rest of the body in daily activity. In this program, we focus on supporting the body as a whole.
How does it work?
Included in this program is core training for spinal posture and stability, core retraining, integration of senses, body awareness training, and breathing focus. Repetition of these exercises changes our posture and the way we move our bodies, thereby limiting pain and ingraining the change for long lasting improvements.
By teaching body awareness, practitioners develop an understanding of natural body alignments and awareness of habits such as slouching, stiffness, and misalignment in the hips.
If you have high pain, we suggest beginning with other Touchstone modalities, then individualized exercises taken from Yoga and Pilates are introduced.
In our Program, Active Release Technique, Structural Energetic Therapy (SET), or Therapeutic Yoga can be add to your session as part of achieving your goals.
Is it right for me?
Specialized equipment with minimal weight-bearing movements and our knowledge of therapeutic Pilates welcomes people all ages and abilities. Even experienced athletes like distance runners can use this program for cross-training. Others with old injuries that don't recover fully or those looking for prevention of injuries or surgeries can benefit from this program.
How much does it cost?
Private Pilates:
60min Session...$80
4 Session Package...$280
8 Session Package...$520
Duo Session (price per person)
60min Duo Session...$50
4 Duo Session Package...$180
8 Duo Session Package...$280
Trio Session (price per person)
60min Trio Session...$35
4 Trio Session Package...$130
8 Trio Session Package...$240
Benefits of Pilates
Clients that have received Private Therapeutic Pilates Program have reported:

Mental/Emotional/Physical releases
Lowered blood pressure
Improved blood circulation
Release of chronic pain, tension or stress
Increased range of motion
Improved posture and sense of strength
Better quality of sleep
Better body awareness
Greater sense of calmness
Improved positive outlook on life
Improved memory
Increased metabolism &/or energy
Not sure where to start? Fill out this form and we'll help guide you on your wellness path.