Yulia Azriel, M.S., E-RYT 500, inspired her students and clients to trust their bodies, relax deeply and connect with their healing wisdom, vitality, and joy.
With a heart full of love and a commitment to spreading the peace and happiness, Yulia has been offering her healing work in classes, workshops, retreats, and individual therapeutic sessions.
Thanks to overcoming her own personal challenges with depression, anxiety and low self-esteem, those turned into a gift that Yulia offers to others in their healing journey. Yulia's mission is to help you realize that your worth and value are not a result of your skills, achievements and successes - self-worth is your birthright.
She is certified in Integrative Amrit Method of Yoga Posture of Consciousness, Meditation in Motion, Advanced Yoga Nidra, and Yoga Therapy, Amrit Method of Body Psychology. In addition, Yulia is a certified Pilates instructor and Reiki 3 practitioner.
There is no better time than now to learn to accept yourself fully, to free yourself of pain and disconnection, self-judgments and self-rejection, and to experience the infinite healing potential arising from within you.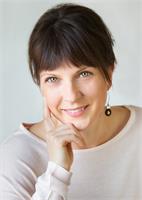 Active Release Technique (A.R.T.), Structural Energetic Therapy (SET) & Stott Pilates
Paulina has been deeply involved in the body since she was two years old. The daughter of a physiotherapist/choreographer in Nowogard, Poland, Paulina grew up dancing in the theater, where she first learned the depth of the mind-body connection, and their ability to heal each other. The joy she feels when she can steady her mind and move through curiosity, community and pain brought her to where she is today with her work and classes. She believes movement is a connection and true refuge.
This ultimately led her to a Master's degree in Dance Pedagogy for Social and Cultural Animation from the University of Zielona Gora, followed by certification as a Dance Movement Therapist from the Polish/English Institute of Dance Movement Therapy. Within a year of arriving in the United States in 2007, Paulina became certified as a Stott Pilates instructor and, a year after that, as a licensed massage therapist. Paulina's certification in Active Release Technique further expanded the menu of healing modalities she offers. Through workshops and continuing education, she constantly strives to further her understanding of a whole person.
Paulina teaches Pilates, Barre and Zenga (a combination form that includes yoga poses, Pilates core, and flow). She uses props to support or challenge, and increase understanding of biomechanics of stability, mobility, coordination, and endurance. In her work you can see the influence of Feldenkrise, Alexander Technique, and Laban Movement System. She believes in touch as a feedback and guidance.
Her favorite pose is Goddess for its sense of safety and feeling alive that is essential to some exercises in Pilates. She also loves squat movements that are so needed in everyday life.
Pilates focuses on mobility and stability in the same moment. As one articulates their spine, they also look to stabilize their scapula and find pelvis placement. There is constant connection between stability and mobility in movement.
If someone walked into her class for the first time, Paulina would want to say to them "be open minded, fearless of heart, here there is no right or wrong and it's great to be exactly where you are."
Appointments with Paulina can only be booked over the phone or in person.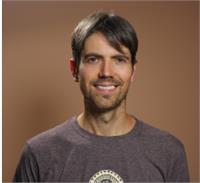 Gabriel Lazriel, RYT-200, being a Hoosier now for a couple
decades, began taking yoga classes in 2002 after a very serious automobile accident that left him with severe back & neck pain. He learned that yoga was not only a means to heal himself but also a path of empowerment to gain control over his life.
Lazriel studied yoga with the Art of Living & Sri Sri Ravi Shankar, getting involved with the organization's Hurricane Katrina humanitarian projects to help with the devastation. As well as learning to teach trauma relief to hurricane victims he also studied laughter yoga, developed by Dr. Kataria with Laughter Yoga International, while living in New Orleans.
He later studied yoga & yoga therapy at the Amrit Yoga Institute where he deepened his understanding of the "Integrative Amrit Methods or I AM" practices pioneered by Yogi Amrit Desai in the 60's. These slow & controlled yet powerful practices are
more meditative & gentle forms of mindfulness.

Combined with his magnetic charisma, energetic personality and creative improvisation, Lazriel loves
to merge the healing power of yogic techniques with modern day understandings to bring a practical "real world" approach to yoga.
His favorite pose is the warrior series, as it reminds us that Yoga is a symbol of health, vitality and centered strength in these modern fast paced times.

Lazriel is a certified RYT-200 Yoga teacher in the Integrative Amrit Method, as well as certified in The Amrit Method of body psychology (Yoga Therapy), trauma relief teacher, certified Laughter Yoga teacher, Kirtan/Musical artist & Reiki Master.